PRAYER CARDS + BUMPER STICKERS + GOOD BOOKS +
+ DAILY OFFICE READINGS, PUZZLES & QUESTIONS +
+ ORDO KALENDARS +

---
episcopalnet.org's
PRAYER CARDS
Saint Isidore
Patron Saint of the Internet
Why Isidore? Because he was responsible for creating the encyclopedia-like "Etymologies," considered the "internet" of its time. Anyway, get this card or the "Internet Ahead" card (below) and before you log on, pray the prayer, and remember to do all things to glorify God, even surfin' the net!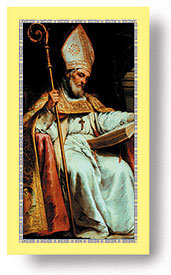 On the Backside:
Internet Prayer
Almighty and eternal God, who has created us in Thy image and bade us to seek after all that is good, true and beautiful, especially in the divine person of Thy only-begotten Son, our Lord Jesus Christ, grant we beseech Thee that, through the intercession of Saint Isidore, Bishop and Doctor, during our journeys through the Internet we will direct our hands and eyes only to that which is pleasing to Thee and treat with charity and patience all those souls whom we encounter. Through Christ our Lord. Amen.
---
"Internet Ahead"
On the backside:
Caution: Internet Ahead
"In all your ways acknowledge Him, and He will direct your paths."
(Proverbs 3:6)

Help me, dear Lord, I'm going online soon and I need your strength. Shield me from whatever would harm me or my relationship with you. Help me navigate through the Web to always find sites that are good, true, and healthy for me and others. Help me balance my time wisely on the Net, remembering I have other priorities as well. May all be done for your greater honor and glory. Amen.

COST OF LAMINATED CARDS:
.50 each (Sold Only in Packets of 10)
Click HERE for PDF Order Form
Questions, Comments?
E-mail

---